GLOBAL CATASTROPHIC RISKS: Building a Resilient Civilization. November 14, 2008, Computer History Museum, Mountain View, California.

Organized by: Institute for Ethics and Emerging Technologies, the Center for Responsible Nanotechnology, and the Lifeboat Foundation.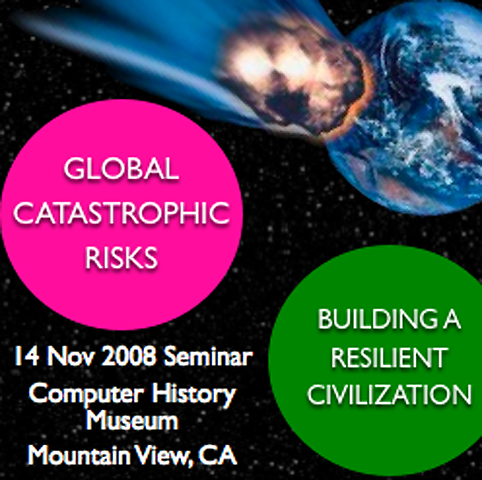 A day-long seminar on threats to the future of humanity, natural and man-made, and the pro-active steps we can take to reduce these risks and build a more resilient civilization. Seminar participants are strongly encouraged to order and review the Global Catastrophic Risks volume edited by Nick Bostrom and Milan Cirkovic, and contributed to by some of the faculty for this seminar.

This seminar will precede the futurist mega-gathering Convergence 08, November 15–16 at the same venue, which is cosponsored by the IEET, Humanity Plus (World Transhumanist Association), the Singularity Institute for Artificial Intelligence, the Immortality Institute, the Foresight Institute, the Long Now Foundation, the Methuselah Foundation, the Millenium Project, Reason Foundation, and the Accelerating Studies Foundation.

If you attend Global Catastrophic Risks, you get a $50 discount on Convergence 08.

Our Jamais Cascio, Bruce Damer, George Dvorsky, Alan H. Goldstein, J. Storrs "Josh" Hall, Martin Hellman, Tad Hogg, Feng Hsu, James J. Hughes, Kattesh V. Katti, Anders Sandberg, Mike Treder, and Eliezer Yudkowsky will be participating in this event.

In addition to our many speakers, we will be presenting papers by our Lawrence Baines, David Brin, Joseph Coates, José Cordeiro, William E. Halal, Jacob Haqq-Misra, John Leslie, Ian Pearson, Benny Peiser, Jeremy Ramsden, Stephan A. Schwartz, Horst Simon, Charles Tandy, Alexei Valerievich Turchin, and Win Wenger.

Read Global Catastrophic Risks Essays!

We aim to raise $2,500 to help support this event. Any excess monies will be used to support future conferences. Help us reach our goal!
Use the below buttons to donate via our partners Amazon and PayPal. Or you can use the below form to donate via credit card. Check and money order donations should be sent to Lifeboat Foundation, 1468 James Rd, Gardnerville, NV 89460.