Update
This terrorist was
killed
by Pakistani Special Forces on December 6, 2014. Al-Qaeda confirmed his death July 2016.
Overview
We would like the nuclear terrorist Adnan G. El Shukrijumah to be captured. There is a $5 million reward for assisting in his capture.
Data
Hair:
Black
Place of Birth:
Saudi Arabia
Eyes:
Black
Height:
5'3" to 5'6"
Sex:
Male
Weight:
132 pounds
Complexion:
Dark, Mediterranean
Build:
Average
Remarks
: El Shukrijumah occasionally wears a beard. He has a pronounced nose and is asthmatic. El Shukrijumah speaks English and carries a Guyanese passport, but may attempt to enter the United States with a Saudi, Canadian, or Trinidadian passport.
Aliases
: Adnan G. El Shukri Jumah, Abu Arif, Ja'far Al-Tayar, Jaffar Al-Tayyar, Jafar Tayar, Jaafar Al-Tayyar.
Pictures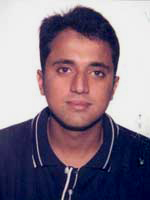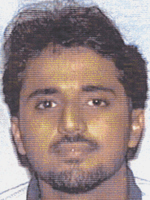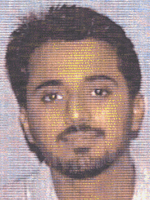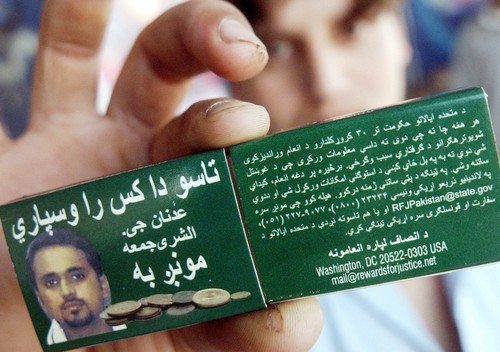 AN INCENTIVE: "You give us Adnan G. El Shukrijumah and in return we will give you rewards. We assure you that all information would be kept secret", reads a matchbox handed out by the U.S. government, which is offering a $5-million reward. (TARIQ MAHMOOD, AFP/Getty Images)
Video
Watch
video about the suspected nuclear terrorist Adnan G. El Shukrijumah.
News
Ace of Spades Reader Spotted Wanted Terrorist? (Updated: Limited Confirmation From FBI)
by Ace of Spades HQ, September 15, 2006.
America's real 'most wanted': Adnan el-Shukrijumah: The man commissioned to nuke U.S.
by Joseph Farah, WorldNetDaily – September 6, 2005.
FBI Hunts 4 Terror Suspects
by CBS News – September 5, 2003.
Feds Target Nuke Phantom: Osama Henchman Named in JFK Plot
by Murray Weiss, Larry Celona and Brigitte William-James, New York Post – June 4, 2007.
Former Florida Resident and al Qaeda Operative Eludes FBI's Net
by Vic Walter, ABC News – September 12, 2006.
A Mystery Man Who Keeps the FBI Up at Night: Officials hunting virtually full time for a Florida computer technician see him as the ultimate 'sleeper agent' in the post-9/11 world.
by Josh Meyer, Los Angeles Times – September 3, 2006.
New al-Qaida leader knows US well
by Associated Press – August 6, 2010.
Pursuit of al-Qaeda keeps coming back to Fla.
by Richard Willing, USA TODAY – June 15, 2003.
What is this Man Plotting?: A newly revealed summit of terrorists raises fears of a fresh plan to attack the U.S. This bombmaker and pilot could be a key player.
by Massimo Calabresi, Time Magazine – August 23, 2004.
Resources
FBI Wanted Notice
Lifeboat Foundation NuclearShield
What to do if a nuclear disaster is imminent!
by Shane Connor – 2006